How to file an income tax return online?
Maroof HS CPA Professional Corporation provides a broad range of income tax services in Canada including personal income tax preparation, corporate income tax preparation and professional tax advice. We are open and helping our clients filing their income taxes online. We have made the process really simple and convenient for our clients.
We prepare and e-file your personal income tax returns in Canada in five easy steps:
1. Fill up the inquiry form
Start by filling up the below form. Provide brief information, without mentioning any personal details, and choose the preferred appointment time. You can also call us on 1(647)724-4308.
2. Get a Confirmation Call for your appointment
We shall call you back and confirm your appointment at your preferred time. In Case, if your preferred appointment is not available, another time is agreed with you. We then confirm your online appointment for tax preparation.
3. Tax Return Preparation: Verify your Identity & provide information
As a professional accounting firm, we verify the identity of all our clients before electronically filing any income tax return. There are many ways you can verify your identity such as uploading any piece of identification on our portal or authorizing our BN through CRA my account. Don't worry, we have done this many times and the process is smoother than it sounds.
We use different ways to connect with our clients such as Zoom, Skype, Webex, Whatsapp video call, or phone call. Prepare all the information beforehand and organize all your documents to avoid any delay or extra charges.
We then prepare your income tax return. We discuss your tax situation in detail with you, provide expert tax advice if needed, and prepare your income tax return.
4. Review your income tax return
Once we prepare the income tax return, we send it to you. We avoid sending it by email and prefer to upload it on our portal. However, if you authorize, we can send the income tax return by email. Take as much time as you want before confirming. If there is any information you would like us to revise, you can ask us. Revised income tax returns are uploaded to the portal (or emailed).
5. Sign your Income Tax Return digitally & get Notice of Assessment
Once you have reviewed your income tax return, we send you form T183 to authorize us for the electronic filing of the individual income tax return.
You must have an email ID in order to electronically sign your tax return. Once you sign off the form T183, we electronically file your individual income tax return with CRA. Depending on your choice, we shall be sending you Express Notice-of-Assessment right away.
Done: You have filed your Personal Income Tax Return with Canada Revenue Agency!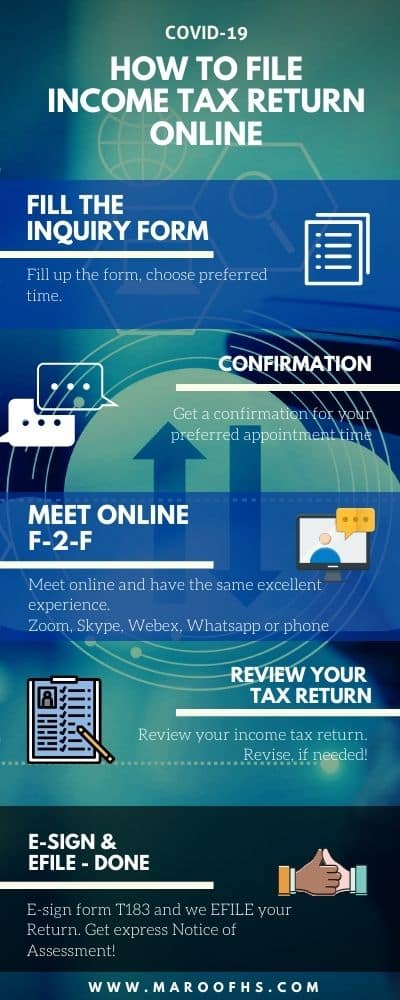 Many of Canadian taxpayers maintain a second home, a vacation property, or hold a U.S. real property interest for...