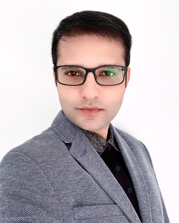 Maroof Hussain Sabri
CPA, CA (Ontario)
CPA, CA (Alberta)
CPA (North Dakota)
U.S. International Tax Certificate (AICPA)
Maroof H. Sabri is the founder of Maroof HS CPA Professional Corporation, a Toronto-based boutique professional accounting firm working with a focus on small and medium-sized businesses in Canada.
He strongly believes in achieving excellence when it comes to his work products, and his clients swear by it. He has partnered up with many small and medium-sized businesses, entrepreneurs and startups and joined them on their road to success.  
He is a Certified Public Accountant licensed by the North Dakota State Board of Accountancy and a member of the Chartered Professional Accountants of Ontario as well as Alberta in Canada. He also holds a U.S. International Tax Certificate from AICPA, for both inbound and outbound transactions. Being a keen learner, Maroof has earned many other academic and professional credentials including Master's degrees in Accounting and Finance, and Actuarial Science. The learning process never stops! The secret behind a database of knowledge is to think out of the box and go to extreme lengths while researching solutions to client problems. 
He has been working in the field of accounting and finance for 12+ years and is well-versed in developing innovative accounting practices. He is capable of handling both simple and complex issues when it comes to income tax and accounting in Canada and the United States. Besides income taxes, he has worked on many acquisitions and disposal transactions and regularly provides consultancy to many businesses. 
He has helped many other tax professionals and accountants to transform and transition their practices to a whole new level.  Successfully transferring know-how of smart working techniques and right pricing mode to generate increased revenues while adhering to professional ethics –  striving for excellence in client experience.  
Not only businesses operating in the accounting profession! There are businesses in Canada and beyond that followed his strategic lead and are successful brands now. 
Speaking of his client-oriented service delivery, he always strives to provide absolute client satisfaction. Over time, he has convinced many Canadian small and medium businesses that they can get the Big4 experience from smaller accounting firms as well, and at a much lower cost.
Wherever and whenever possible helping others is a deep-rooted passion, be it through a tax clinic in Toronto or mentorship to aspiring entrepreneurs in collaboration with Futurepreneur in Canada. 
Apart from being a CPA and an entrepreneur, he is also an environmentalist. His concern for the environment is apparent in his efforts to encourage clients to digitize their business processes while ensuring perfect compliance at the same time. 
Now, learn more about Maroof HS CPA Professional Corporation, founded and managed by Maroof, and located in Toronto.