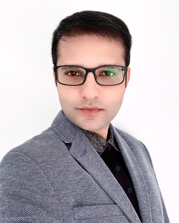 Maroof Hussain Sabri
CPA, CA (Ontario)
CPA, CA (Alberta)
CPA (North Dakota)
Maroof H. Sabri is the founder of Maroof HS CPA Professional Corporation, a Toronto based boutique professional accounting firm working with small and medium-sized businesses in Canada.
He strongly believes in achieving excellence when it comes to his work products, and his clients swear by it. He has partnered up with many small and medium-sized businesses, entrepreneurs and startups and joined them in their road to success.
Being a keen learner, Maroof has earned many academic and professional credentials. His qualifications include holding Master's degrees in Accounting and Finance, and Actuarial Science. He is a Certified Public Accountant licensed by the North Dakota State Board of Accountancy and a member of the Chartered Professional Accountants of Ontario as well as Alberta in Canada.
He has been working in the field of accounting and finance for 12 years and is well-versed in developing innovative accounting and bookkeeping practices. Acquisition and disposal transactions, investment consultation, investor relationship management, financial statement preparation, and tax planning & reporting are his areas of expertise. He is capable of handling both simple and complex issues when it comes to income tax and accounting in Canada and the United States. Helping businesses and start-ups with business planning services, capital restructuring advice, and strategies for attracting investors are among the core services provided by him.
Apart from being an entrepreneur, he is also an environmentalist. His concern for the environment is apparent in his efforts to encourage businesses to digitize their business processes and use cloud accounting solutions. He has designed multiple applications for accounting, inventory, and other business processes.
Speaking of his client-oriented service delivery, he always strives to provide a hundred percent client satisfaction. This is what makes him a CPA of choice for many small and medium businesses.