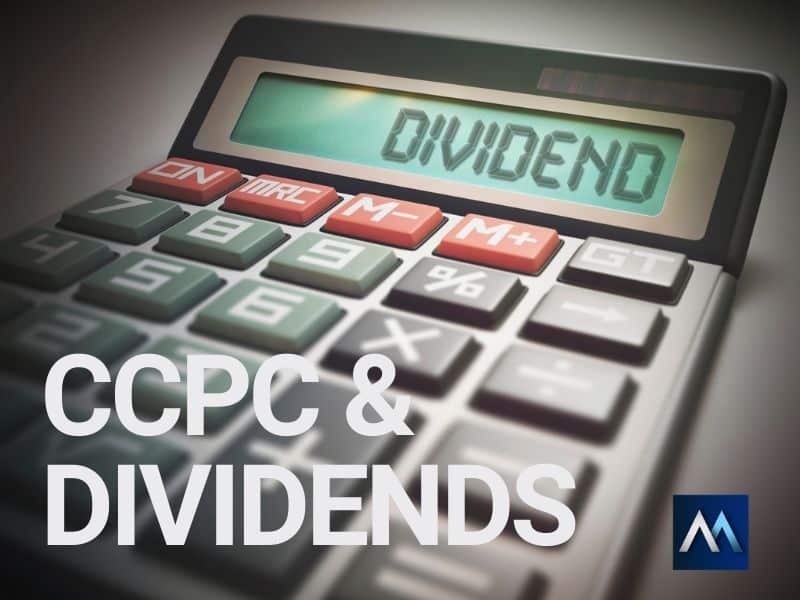 Dividends are paid from the after-tax income of the corporations to shareholders. Whether you want to withdraw the salary from your corporation or pay dividends to yourself, it depends on a specific tax situation. Whether you are opting to withdraw salaries or dividends from a Canadian Controlled Private Corporation (CCPC), because of the integration principle of Canadian tax system taxes paid on either of them approximate the same.
Dividends give an opportunity to defer taxes at a personal level by using the timing of issuance of dividends as a tool. The timing of dividend withdrawals directly impacts the personal marginal tax rates.
Process of Dividend Issuance
Payment of dividends is largely governed by the business acts (or laws) of the jurisdiction in which the corporation is incorporated. Generally, directors of the corporation pass a resolution to issue a dividend to shareholders. Corporations must ensure compliance with relevant corporate laws to ensure that they meet the solvency tests and other corporate procedural requirements.
Can a Corporation Issue Dividends if there are losses?
Generally, No! If the corporation has negative retained earnings (losses), it cannot issue dividends. A corporation with negative earnings fails to meet the solvency test.
Technically, dividends are distributions of after-tax profits of a corporation. So, if there are no earnings in the first place, how can they be distributed?
Doing so might be a violation of the Canada Business Corporations Act, the Ontario Business Corporations Act, or other business corporation acts under which the corporation is incorporated.
Section 42 of the Canada Business Corporations Act clearly prohibits issuance/declaration of any dividend if the corporation will not be able to meet its liabilities afterwards or the net realizable value of total assets is less than liabilities plus stated capital of all classes.
What if the corporation has issued dividends or filed T5 from a loss-making business? If you have filed a T5 information return in rush just to meet the deadline, it can be amended or cancelled subsequently.
This is always best to consult your corporate tax accountant in Canada or a professional corporation tax service before issuing dividends.
Filing T5 with CRA
Corporations must file T5 information by the last day of February following the calendar year to which it belongs. Not filing T5 information return on time results in penalties with a minimum of $100 and a maximum of $7500. A T5 information return is an often missed return by small businesses in Canada. T5 needs to be filed annually on a calendar year basis regardless of the fiscal year of the corporation.
Issuance/declaration of dividends can be generally done at any point of time in a year. A common mistake occurs when small businesses or owner-managers start confusing their salary with dividends, or with shareholder loans. When a shareholder loan is repaid to shareholders, it does not need to be reported on T5.
By the time the accountant prepares and files the T2 Corporation income tax return and T5 information return the client has already incurred penalties.
While issuing dividends you need to understand the following terms.
Type of Dividend – Eligible Vs Non-Eligible Dividends
Dividends issued by public corporations are eligible dividends. When a CCPC issues dividend, it can be either eligible or non-eligible dividend.
When a CCPC pays dividends from its income which is within the limit of the small business deduction, it is called a non-eligible dividend. Small business deduction (SBD) is a reduction in the corporate tax rate for the active business income of CCPCs and is limited to $500,000 for 2019. In certain cases, different corporations share SBD, in all cases, dividends out of this income pool are non-eligible dividends.
When a CCPC pays dividends from income pools other than the above which are taxed at full tax rates, it is called an eligible dividend. It includes the active business income above the Small business deduction limit.
Dividends paid out of the portfolio income which is derived from the investments of CCPC in public corporations are eligible dividends and are subject to refundable part IV tax of 38.33%. When CCPC pays these dividends to CCPC's shareholders, it is eligible for a dividend refund. This way the income is not taxed twice.
Other investment income, other than the above portfolio income, like interest income when distributed to CCPC's shareholders, is non-eligible dividends.
Tax-Free Capital Dividends in Canada
Besides eligible and non-eligible dividends, there is a Capital dividend as well. If your corporation has a capital dividend account, it can issue a capital dividend to its shareholders, which is tax-free. A corporation's capital dividend account is tracked by CRA. Issuing a capital dividend has its own requirements, such as filing of T2054, Schedule 89 and a certified true copy of board resolution.
Since capital dividends are tax-free, whenever, a corporation is planning to issue a dividend, check out the possibilities of issuing the capital dividend.
Dividend Gross up & Dividend Credits
For individuals resident in Canada, non-eligible dividends are grossed up to arrive at taxable non-eligible dividends. Since dividends are already taxed at the corporation level, a dividend credit is available for personal taxes.
For 2019 and previous years, the gross-up factor and dividend credits are mentioned below.
Dividends with NO-TAX
Due to the integration of the Canadian tax system, you do not have to pay any personal tax if your investment income doesn't exceed a certain threshold. Such a threshold, in 2019 for the province of Ontario is $51,800 for eligible dividends and $30,700 for non-eligible dividends (approximate amounts). This is applicable only if you have dividend income only and no other source of income. be mindful of the implications of AMT.
Dividend Gross up & Tax Credit Rates Canada – 2021
Non-Eligible Dividends
Eligible Dividends
Dividend gross up rate
15%
38%
Dividend Tax Credit – Federal (as % of grossed-up taxable dividend)
9.0301%
15.0198%
Dividend Tax Credit – Federal (as% of actual dividend)
10.3846%
20.73%
Dividend Tax Credit – Ontario (as % of grossed-up taxable dividend)
2.9863%
10.0%
Dividend Tax Credit – Ontario (as % of actual dividend)
3.434%
13.8%
Dividend Tax Credit – Alberta (as % of grossed-up taxable dividend)
2.18%
8.12%
Dividend Tax Credit – Alberta (as % of actual dividend)
2.507%
11.20%
The actual amount of Dividends before any regular income taxes are payable – Federal
(Caution: AMT is applicable on Eligible dividends)
$30,172
$63,040 (AMT applies)
The actual amount of Dividends before any regular income taxes are payable – Ontario
(Caution: AMT is applicable on Eligible dividends)
$33,733
$95,807 (AMT applies)
The actual amount of Dividends before any regular income taxes are payable – Alberta
(Caution: AMT is applicable on Eligible dividends)
$21,541
$74,667 (AMT applies)
Income Sprinkling and Tax on Split Income
When a corporation's dividends are issued to family members of the shareholders to shift the income from the individual with the higher marginal tax rate to the individual(s) with the lower marginal tax rate, Tax on Split Income (TOSI) is also applicable with some exceptions available. Read more about TOSI rules here.
TOSI rules are very complex and you should always consult a professional corporate accountant or certified individual tax preparation professional.
There are deemed-dividend rules applicable to corporations as well. Though there is no tax on the withdrawal of contributed capital, drawing distributions in excess of contributions can cause deemed dividend rules to be applicable. Deemed dividend rules are slightly complex rules and such a situation must be discussed with a professional tax accountant who specializes in corporation income tax in Canada.
The above post is written for general information purposes and every individual has a unique financial and tax situation. Readers are advised to contact their accountant to discuss their specific situation.
Maroof HS CPA Professional Corporation is an Ontario-based professional accounting firm providing business, accounting and tax services in Canada and the United States. We provide corporate income tax return preparation, corporate tax planning and professional tax advice along with individual income tax services. Get in touch with us.