Preparing a good business plan is a time-consuming task that requires dedication and far-sightedness. Many entrepreneurs choose not to craft a business plan before going ahead with the execution of their idea since it is a time-consuming affair. However, research has shown that business plans can give positive returns in the long run, ensuring your business does do more than just staying afloat. With a clear vision and set goals, you will just know what to expect.
If you are an aspiring entrepreneur, begin working on a business plan as soon as possible to know the business framework and your goals.
What should your business plan do?
A business plan:
Establishes the company goals and aim
Includes both short and long term goals that you hope to achieve
Explains the course of action that you are planning to undertake
In this article, we will cover the basic template that a business plan should abide by and how you can maximize your output within that structure.
Why is it important to have all the business plan essentials?
You may excuse yourself from writing a business plan by reasoning that you would learn through your experiences and follow your instincts. However, that approach has certain limitations that will hold you back. You will not have a clear idea of where your company fits into the market and how you want the business to progress. Making a business plan does not come with any negatives, and it is always safer to have one ready.
Once you decide to write a business plan, you have to ensure that the document has the correct anatomy to attract investors. Providing a good business overview will convince the readers that you know what you have set out to achieve. Your research will open your eyes to what your target audience wants, based on which you will be able to adjust your plans.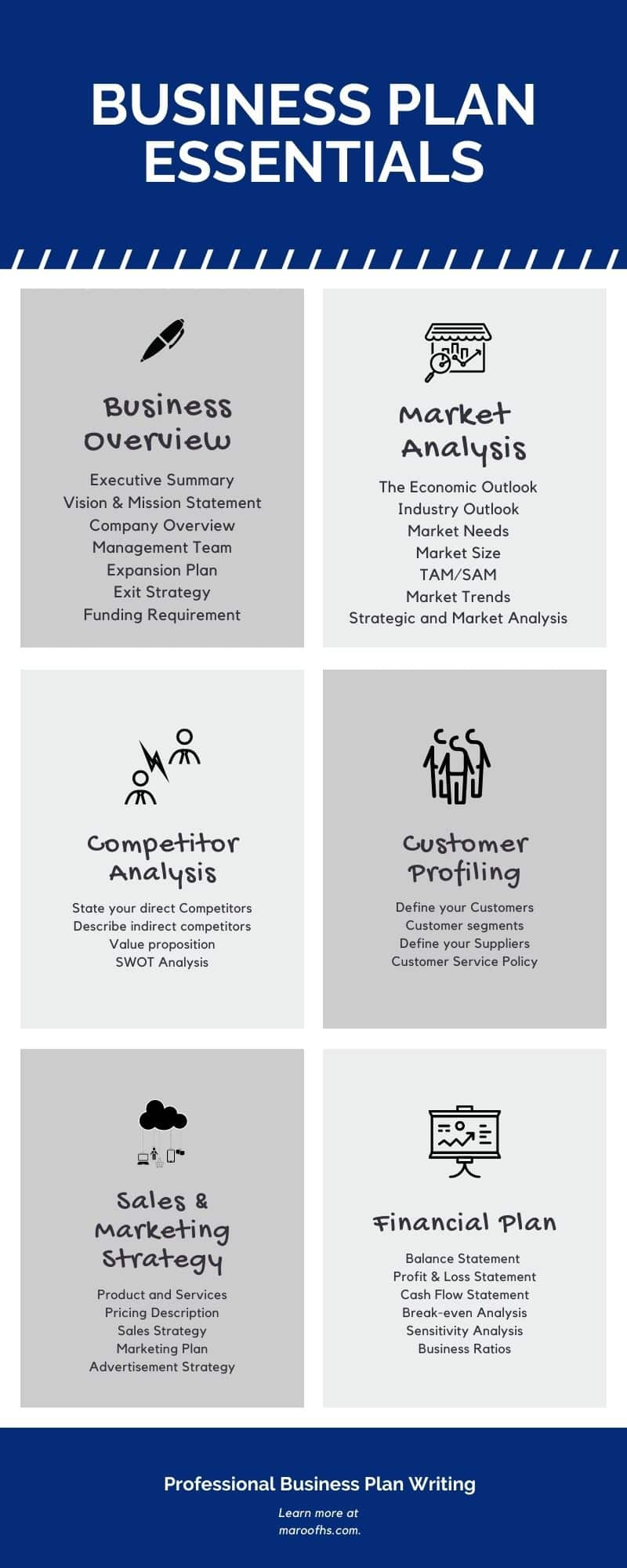 A business plan will offer you the following benefits.
You will understand the nature and trend of the industry. Statistics are concrete and reliable. They will give you a realistic idea of what to expect.
You will get the opportunity to analyze your current deficiencies since you will have to mention what your expectations are from the business.
You can sketch out the stepping stones that will lead you to accomplish your goals. Assess the advantages and opportunities at your disposal alongside the threats posed by your competitors.
A business plan will make the fundraising process convenient because you will be able to highlight the notable points confidently.
You can set practical goals as to what resources you will need initially.
Business plans help establish a common vision that can be shared by founders and employees alike. The scientific approach taken when drafting the plan will help you be objective and not be overwhelmed by the possibilities.
Read: How to write business concept clearly?
1. Executive Summary
The executive summary is not something you should piece together in a hurry once you have written the rest of the business plan. In fact, you should create an outline of the executive summary before moving on to anything else.
The executive summary section is all about hitting the right basics and noting down the important points. If you have a meeting with investors, stakeholders, co-founders, or team members, it is highly probable that the executive summary will garner the most attention initially. This section should have a complete narrative of how your business plan came about alongside a detailed summary of the business plan itself.
The perfect executive summary serves as an excellent reference in an initial meeting. If you have to elaborate on a specific topic, you can simply consult the relevant subsection. You can save the examination of the entire business plan for later meetings as you venture deeper into business negotiations.
You should use the executive summary to create the structure of your business plan. Note down the chronological order of the document and the topics you are planning to include before you start writing the rest of the document. It will be the perfect guide to refer to if you find yourself struggling at any point.
Do not be in a hurry to finalize this section. You can keep making edits to the executive summary while you give shape to your plan up till the very end. A good executive summary should refer to all the important subsections of the document separately.
Make sure that your idea comes through as ambitious but realistic. Sound enthusiastic, but include statistical figures that support what you are saying. Talk about your management team and the qualifications of the members.
The executive summary should successfully communicate your faith in the business idea.
Read: How to write an executive summary of a business plan?
2. Company Description, Industry Analysis, and Trends
The business overview you present should convey all your primary ideas to the reader. While it sounds easy, describing your company's functions in concrete terms will require you to put in some serious effort. The language should combine lucidity with technical terms that are relevant to your industry. State the gaps in the market that are being filled by your company.
Know market trends
Elaborate on the nature of the industry. Plan out how you plan to make your business succeed. Mention the trends in the market that you wish to capitalize on, and why you find them relevant to your business. Your research will reveal studies and statistics to support your answer.
Devise a customized strategy
This section will also include specifics about your company and the way it functions. You should outline the formal corporate structure of your company and mention your achievements so far in the industry. Remember that your goal is to convince the reader that your team is capable of getting the job done.
Be objective
Being objective will win you major points with investors. List the different possible risk factors that might affect you. Follow it up with the solutions that you are planning to implement so that the company does not suffer any undue damage. You should address all the risks when planning solutions so that the reader is convinced that you are willing to overcome obstacles.
Know what's influencing sales
All new companies have to consider their sales and how they can improve the figures over time. Mention the factors that you think will affect your sales and how so. If you have an innovative idea about how to boost sales, then include it in this section. It will give you an edge over other companies who are also vying for funds.
3. Target Market, Competition and Strategic Position
You must address all questions regarding your target market in this section. Once you find out the primary characteristics of your market, you will have to narrow down your audience. Choose the demographic that you think will respond to your business and substantiate your answer. Figuring out your target market at this stage will allow you to phrase the rest of the plan accordingly.
Get better insights on the market size
Moreover, you will have an estimate of your market size. To make the market segment comprehensive and understandable, you can make bullet points that highlight your primary considerations. Projected growth rate, collected statistics, and customer dynamics are just a few of the points that you can choose to cover.
List out all your services
You should cover all the products and services that your business is planning to offer in this section. If the company will specialize in our particular type of product, go into detail and explain why you chose it.
Emphasize why your product offering is different from similar items in the market. On the other hand, if the company will sell multiple kinds of products, you should list them individually and also mention if you offer color or material variety.
Get the pricing right
Your target audience will play a major role in determining the price of your products. State the pricing range and why you think that it is suitable for the targeted customers. This should be followed by your plan for the efficient distribution of products. Outline the number of warehouses and retail outlets that you are aiming for.
Know your competition
This section of the document should shed light on your competitors and the kind of competition you are expecting from them. State your competitors' advantages and weaknesses and provide relevant details. Now, your task is to set yourself apart from them by listing all your competitive advantages over other companies.
State your competitors
Do not be scared to name particular companies and state why your business has the edge over them. Chalk out the prevailing competitor landscape and try to future-proof it. Thinking ahead will save you a lot of trouble later on. Do not exclude indirect competitors as they will play an important role in determining market dynamics.
To complete this section, you can state the strategies that you will implement in order to find sales and business partners who will complement your business.
Read: TAM, SAM, and SOM – popular but most misunderstood and ignored metrics
Read: How to write market section of a business plan?
4. Customer/Audience analysis
This is the section where you show your understanding of the customers as flesh and blood beings who will use your product. Conduct a study into the psychographics of your target customer by putting yourself in their shoes. This will help you figure where the problem or gap lies, and what kind of solution they are looking for. If you can pinpoint the customer pain points, you will know how to market your product and get through to them.
Know your different customer profiles
Creating customer profiles on the basis of consumption trends and socio-political factors are helpful. When you are listing your main findings of the customer analysis, you should mention your sources as well. Conducting primary research alongside your secondary research will give you a better perspective and make your observations more convincing.
Develop the operational strategies
In this section, you should also cover the operational or technological strategies you are planning to follow. If you think that they give you an advantage over your competitors, mention that too. State the primary operational areas and define them in concise terms. Some of the details to include in this section are:
Location, size, and capacity of the headquarters,
Advantages and disadvantages of the arrangement
Ownership Details
Equipment and technologies used
Scope of research and development
You should highlight any new proprietary technologies that you are planning to bring into the market in this section. You can follow this up with a detailed table about your action plan. List your short term goals and the deadlines that you have set for yourself.
5. Sales and Marketing Plan
Moving ahead, you have to tackle the crucial subject of sales and marketing. Investors and shareholders will want to know how you plan to maximize the output of the capital through different sales and marketing strategies. Instead of being hasty about getting your product or service into the market, take your time and figure out what possible approaches you can take in your business plan itself.
Develop a sales strategy
State your marketing strategy in simple terms without going into too much detail so that there is enough flexibility for you to change the smaller details later on. Mention the marketing channels you are hoping to utilize to reach your target market. You could hope to sell only via direct sales, or you could venture into online marketing or both. Justify your choice so that the reader can see your point of view.
It is important to come across as someone well-versed in the world of marketing initiatives. The possibilities are endless in today's day and age, but you mustn't get distracted. Stick to what you know and be very clear in conveying your ideas. If you are intentionally vague, it will drive away people because they will find you undependable.
Know where to spend money on
This section should also contain details about the money you have to spend on your inventory. Citing proper estimates will earn you credibility. Mention the fixed assets you need to list for. Be analytical in your approach when stating the advantages or disadvantages of your fixed assets.
Talk about customer experiences
If you have already started your business, you can cite customers as references. You should also list your suppliers so that the readers can verify the legitimacy of your company if they wish to do so.
Know where to advertise
Advertising is a crucial consideration because the market is oversaturated. You need to stand out and make an impression on your customers. State how you are planning to advertise your products to your target audience. You should also mention why you find those advertising methods to be suitable for your company.
To finish this segment, you should mention your plans for an efficient customer service team.
6. Human Resources
When you are drafting your business plan, you should make sure that everything you state is in legal compliance. If you have a dedicated Human Resources team, you should begin by listing the employees' names and qualifications. On the other hand, if you do not have an HR team, you should list your managerial skills as well as the roles played by each member of the team.
If you find that there are gaps and strengths in the personnel lineup, you should make that clear in this section. This will show that you are self-aware when it comes to your business.
Focus on the employees
Do not worry if you do not have a full team. Instead, focus on giving an accurate picture of the company's organizational structure and the different job positions that are occupied. Follow it up with the job positions you will like to create and the recruitment plan you will follow. Try to be very specific when listing an employee's responsibilities so that it becomes easier to fill in the deficiencies. Some entrepreneurs begin by hiring a Human Resources Manager and take it from there.
Develop employee policies
In this section, you can state the policies and procedures to be followed by your employees, such as their hours of operation and performance assessment methods. This section will also include details of the government's labor rules in your area of operation. Mention how you plan to follow through on each of the stipulations. The wages received by the employees should not only meet the legal requirements but also be on par with the average in the industry. You should also state how you plan to utilize overtime hours.
Employee skill development
If you plan to organize special training and workshops for your employees, mention your reasoning behind the initiative and what your expectations are.
To complete this section, you should list the benefits that employees can expect. These include vacation programs, insurance benefits, religious holidays, and more. These benefits are not necessarily legal requirements, but they help in developing loyalty among employees.
Payroll forecasting
It is important to remember that you will have limited capital, and you should not take on more than you can handle. Calculating budgets with an open but practical mind is a must if you want readers to find your business plan worth considering.
The cost for employees will form a significant portion of your budget, as it should. You should do your research well before jotting down the estimated salaries for your employees. Investors will pay special attention to how you want to organize your payroll and handle the administration costs.
Be aware of employment laws and regulations
The pay scale should not defy any governmental or labor laws. In the beginning, you should assign reasonable salaries for your employees, close to the average figures in the industry. Vacation time is not a legal requirement by any means, but you should consider it because it helps employees stay motivated and refreshed. Bonuses are also a great way of keeping employees productive.
Focus on healthcare and the like for your employees
Some companies also offer health insurance and life insurance for their employees. If you plan to do so in the initial stages of your business, establish a subsidized plan. You can shift to a better plan once your company starts earning profits.
In the beginning, you should include enough benefits to attract qualified people but should be careful that it doesn't hurt your business. Once you have decided on your plan, list out the details concisely. Remember that the overall employee costs include healthcare and vacation.
8. Key Milestones and Financial Plan
If you set unrealistic goals for yourself, there is a chance that you might not make it. It is essential that you study historical and contemporary market analysis so that you can set up a realistic plan for yourself.
The financial projections should not be overly ambitious. Instead, they should be grounded and achievable so that the investors are assured that they will get their money's worth.
There are two ways in which you can appeal to investors:
Mention that you want capital but do not ask for specific amounts. The plan should give way to a conversation on the subject, after which you can set up your negotiations accordingly.
You can state the actual amount you need and fully disclose how you plan to use it.
Both approaches have their pros and cons. You have to choose the one that is most suitable for your company.
You can prepare a financial plan based on the trends you have studied. The spreadsheet can include sales, expenses, income statement, balance sheet, budgetary concerns, performance indicators, and more.
Important: Read here, why did your business plan fail to raise the required funding.
Read: How to strengthen the financial section of your business plan
Read: How to write a business plan for immigration to Canada?
You can complete this section by talking about any financing and government regulation requirements that you have to follow.
Conclusion
The time spent on drafting a business plan will not go to waste because it what's going to guide your business going forward. You have to research markets and calculate projections to create a comprehensive plan.
Well-structured business plans are powerful as they cover all the primary aspects of your company while leaving room for improvement. The plan will provide you with a structured route to take initially, after which you will be able to pave the path for yourself.
---
This article highlights the essential components of a business plan. Business plan writing is an important activity and you can always ask for the services of a professional business plan writer.
Maroof HS CPA Professional Corporation does provide business plan writing service taking care of all the aspects of your business concept. Whether you are looking for a business plan to raise funding for your business concept, preparing your business plan for immigration to Canada, or an entrepreneur with a brilliant idea looking to convert it into a brand – we can help you at every step. Discuss your needs and let's convert your idea into a successful brand. Contact us.