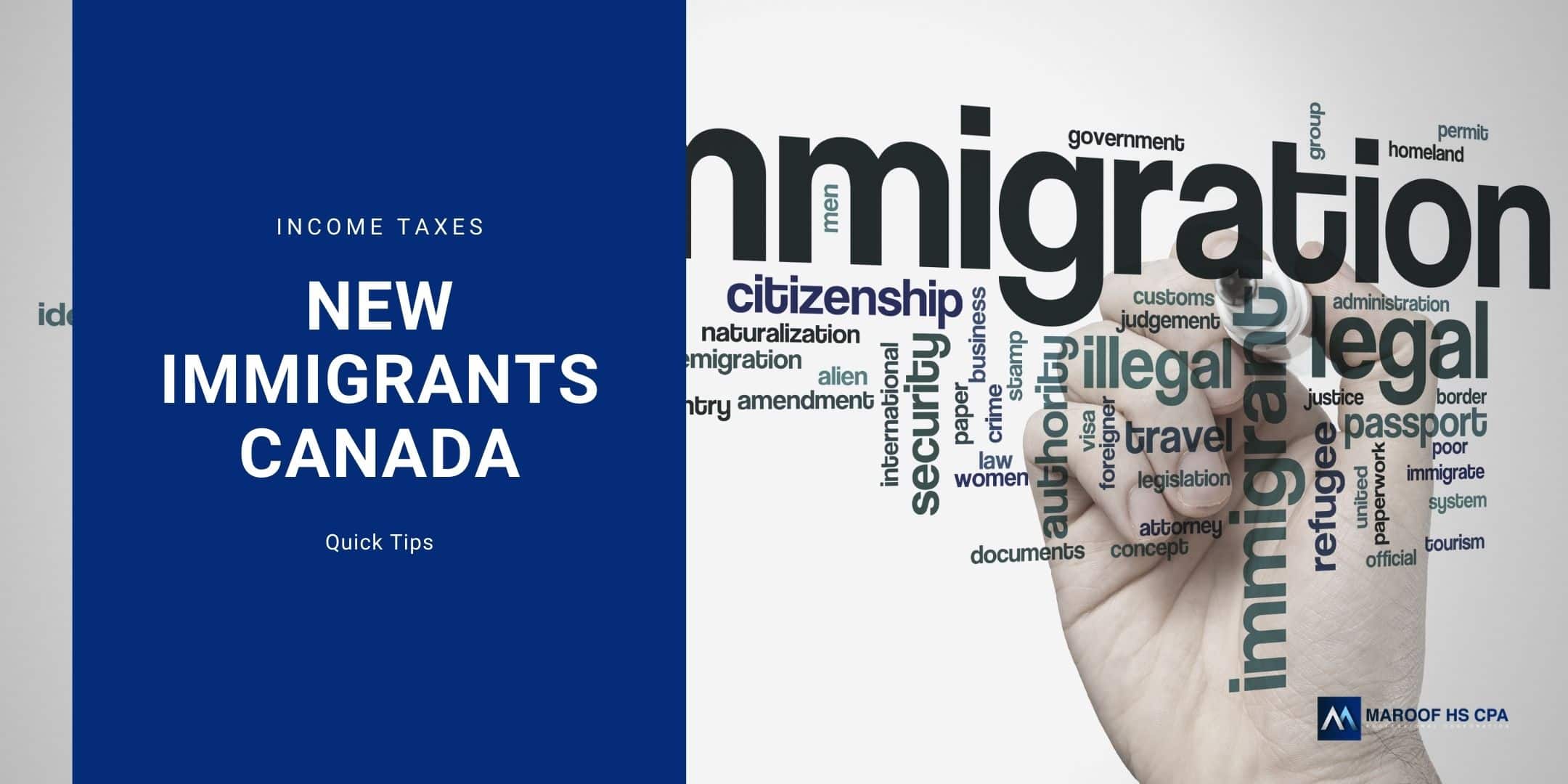 Canada taxes its residents on their worldwide income.
You become a resident of Canada when you establish residential ties with Canada. The year in which you become a resident of Canada is considered a part-year for tax purposes. Keep in mind that tax residency is different from the immigration residency status in Canada. An individual who is a landed immigrant may not have established residential ties with Canada or another way around.
An individual who becomes a resident of Canada is subject to Canadian taxes on worldwide income from the date of change of residency status until the end of the year and whereas for the first part of the year before becoming the resident only Canadian-sourced income is taxed.
When we say worldwide income taxation in Canada, generally foreign tax credits are available to avoid double taxation of income. Also, Canada has tax treaties with other countries that affect the taxation of foreign-sourced income. Foreign-sourced income prior to becoming a resident is not taxed in Canada whereas foreign-sourced income after becoming a resident of Canada is taxed.
There are a few tips that can help to avoid tax issues for newcomers to Canada:
Earn more income in the country with low taxes before becoming a resident of Canada
If the country you are leaving before coming to Canada as a resident has lower income tax rates, try to earn as much income as possible in that country. Foreign-sourced income prior to the date of commencement of residency is not subject to Canadian taxes.
Maintain travel logs and establish the date of change of residency
Maintain detailed travel logs to plan your residency in Canada. You can get benefit from marginal tax rates in Canada by planning your residency commencement date well before coming to Canada.
Capital gains and losses before coming to Canada
You may have capital losses being carried forward in the country which you are leaving before coming to Canada. If you have investments, review your assets and consider disposing of off loss-making investments to claim those losses in your previous country.
Don't apply for a health card if you are not residing in Canada
If you are a landed immigrant and get health coverage, it is usually considered significant residential ties and your worldwide income is subject to Canadian taxes. If you are just landing in Canada to get permanent residency status for immigration purposes and intend to go back to move later, you should consider not applying for health coverage. Most provinces generally have waiting time before enrolling you for coverage. Getting health care coverage seems to be an attractive option for many of new immigrants, however, landed immigrants having health card may become tax residents of Canada even if they return back to plan their final move.
Moving Expenses to Canada
Moving expenses deductions for residents of Canada are sometimes different in the case of moving to Canada. In certain cases, your new employer may reimburse you for the moving expenses. Consult your professional tax adviser in Canada to understand the effect of the moving expenses paid by your employer. You can try to get these benefits before coming to Canada. Certain types of reimbursements are not taxable whereas others are, therefore, plan to get the tax benefit accordingly.
Retirements and Pension plans before coming to Canada
It is very common to have pension plans or other retirement plans before you become a resident of Canada. This is another complex area and you should consider consulting a professional personal tax service provider for residents and non-residents. You may be able to move these plans to RRSP but you should check foreign tax issues with your leaving country. If you leave a foreign plan and your employer keeps contributing to it, it might restrict your ability to contribute to Canadian RRSPs, DPSPs, and RPPs.
Review your stock options before moving to Canada
You may have Stock options related to your foreign employment before you become a resident of Canada. Consider the tax consequences of exercising those options.
Reporting requirements for foreign investments in Canada
There are reporting and filing requirements for the residents of Canada who hold foreign investments. Familiarize and prepare yourself with these requirements before coming to Canada to ensure compliance with tax laws. Some of these information returns which might be applicable to individuals becoming residents of Canada are:
Planner Income Tax Returns for Newcomers to Canada
If you plan to continue earning a substantial foreign income after immigrating to Canada. Don't forget that Canada taxes its residents on their worldwide income. Therefore, your "current income" before immigration becomes "foreign income" after immigration and part of the worldwide income. Depending on the country, a specific tax treaty may provide relief from double taxation in the form of a foreign income tax credit. What if your current country does not have income taxes such as many middle eastern countries like the United Arab Emirates?
Planner income tax returns are especially helpful in such situations in understanding the tax consequences of multiple scenarios and are important income tax planning tools.
---
A lot of times new immigrants face issues while preparing their first-year tax returns. You can easily do personal taxes in Canada if you have a simple tax situation. However, you are recommended to consult professional individual tax preparation services who also provide tax advice to ensure accurate tax filings in Canada.